How True, Is Prince Harry in RP?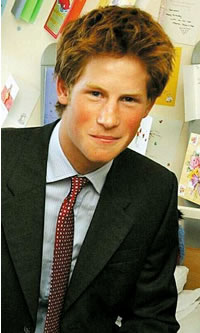 After "Brangelina," is Prince Harry of Wales next?
After rumors on the alleged visit of Hollywood's power couple Angelina Jolie and Brad Pitt to the Philippines spread, talk about the supposed trip of Prince Harry to Cebu is now swirling in the province.
A tall, good-looking, and blonde man was reportedly seen in the town of Dumanjug, in southern part of Cebu, playing tennis and painting schools. The man purportedly looks exactly like Prince Harry, the third in line to the British throne.
Residents said they believe that he is a real prince since four of his Filipino companions have been addressing him as "Your Highness." The man also visited schools and homes around town and reportedly introduced himself as Harry.
Residents said Harry has been in Dumanjug since April 23 for humanitarian works. They said he painted Dumanjug Central School and has been making friends with school children.
Harry is reportedly staying at the school's home economics building. The school principal, Minerva Zozobrado, said Harry would jog every morning without security.
Dumanjug Mayor Cesar Baricuatro said the local government serves Harry Filipino food. Baricuatro said Harry loves to eat vegetables and rice cakes.
As of this posting, it was not clear though if Harry was indeed the Prince Harry of England.
Some of the residents, however, doubt that he is a member of the British monarchy. According to them, he is not speaking in English accent.
Eric Santos, one of the guardians of Harry and also the coordinator for the Lantaka Youth Club, said Harry, 18, was born in Uruguay.
Prince Harry, the younger son of The Prince of Wales and the late Diana, Princess of Wales, is now 24 years old. The prince was born in London.
Santos arrived in Dumanjug with the foreign man.  He declined to confirm if Harry is indeed one of the members of the royal family, saying he does not want to break people's hopes.
He added that Harry is touring Asia to do civic works. Harry chose the Philippines over Japan to do his humanitarian works, Santos added.
Article from ABS-CBN News