1. Adam Lambert – Change Is Gonna Come
2. Kris Allen – What's Going On
Download: American Idol Season 8 – Top 2 (Studio Recordings)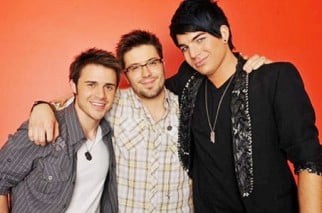 Danny Gokey was eliminated, to be honest Danny gokey was may fave for this season but after several performance on the show I found him boring no variation on his performance and after the a terrible performance on rock thingy he diserve to be eliminated and thats only my opinion so dont get me wrong.
1. Adam Lambert – One
2. Adam Lambert – Cryin'
3. Danny Gokey – Dance Little Sister
4. Danny Gokey – You Are So Beautiful
5. Kris Allen – Apologize
6. Kris Allen – Heartless
Download: American Idol Season 8 – Top 3 (Studio Recordings)
Sorry for this late post I was on vacation and I some of you are waiting for this. Here we go!
1. Adam Lambert – Mad World
2. Allison Irhata – I Can't Make You Love Me
3. Anoop Desai – True Colors
4. Danny Gokey – Stand By Me
5. Kris Allen – All She Wants to Do Is Dance
6. Lil Rounds – What's Love Got To Do With It
7. Matt Giraud – Part-Time Lover
8. Scott Mcinytre – The Search is Over
Download: American Idol Season 8  – Top 8 (Studio Recordings)
American Idol – Top 9 (Studio Recordings)
1. Adam Lambert – Play That Funky Music
2. Allison Irhata – Don't Speak
3. Anoop Desai – Caught Up
4. Danny Gokey – What Hurt's the Most
5. Kris Allen – Ain't No Sunshine
6. Lil Rounds – I Surrender
7. Matt Giraud – You Found Me
8. Megan Joy – Turn Your Lights Down Low
9. Scott Mcinytre – Just The Way You Are
Download: American Idol Season 8  – Top 9 (Studio Recordings)
I so love the performance of Megan its so Amy Winehouse /Regina Spektor but the best performance for me are Anoop, Matt and Kris. I love the renditions of the songs and so im gonna share it with you. Download link below
1. Adam Lambert – Ring of Fire
2. Alexis Grace – Jolene
3. Allison Irhata – Blame It On Your Heart
4. Anoop Desai – Always On My Mind
5. Danny Gokey – Jesus Take the Wheel
6. Kris Allen – To Make You Feel My Love
7. Lil Rounds – Independence Day
8. Matt Giraud – So Small
9. Megan Corkery – Walking After Midnight
10. Michael Sarver – Ain't Goin' Down (Til' the Sun Comes Up)
11. Scott Mcinytre – Wild Angels
Download: American Idol Season 8  – Top 11 (Studio Recordings)